This post contains affiliate links. The Salt Sirens earns from qualifying purchases.
Maybe you're a dive shop on the hunt for the latest and greatest air compressor technology. Or, maybe you've just moved onto a boat and want to have a way to fill your tank without the hassle of going into a dive center. In this guide, we'll reveal the best air compressors for scuba diving tanks.
In this article we'll cover:
The best scuba air compressors: at a glance
The best scuba air compressors: reviewed
Normal air compressors vs scuba air compressors
How scuba air compressors work
Things to consider when choosing the right air compressor for you
The Best Scuba Air Compressors: At a Glance
The Best Scuba Air Compressors: Reviewed
Bauer Junior II (Best portable scuba compressor for small boats)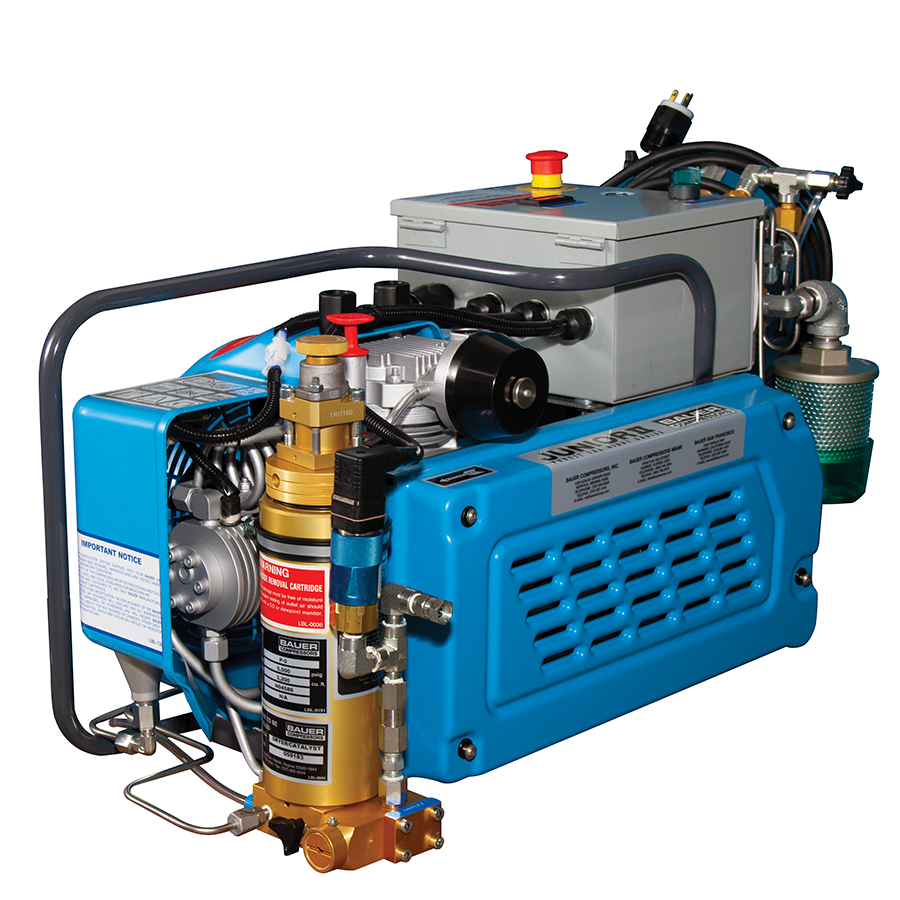 Weighing only 46 kgs (101 lbs) with a dimension of 78 × 34 × 42 centimeters, the Bauer Junior II is one of the smallest and lightweight scuba compressors. It is preferred for boat use and in remote locations.
This compressor is powered by a gasoline motor (options are available for electric motor) and has a capacity of 3.5 cfm. It has a single filling hose and can fill a standard 80 cubic feet tank from 0 to 3,000psi in 24 minutes. The compressor block can work efficiently for decades with minimal required maintenance.
Check price: Lucas Dive Store
Bauer Oceanus (Best portable scuba compressor for dive centers)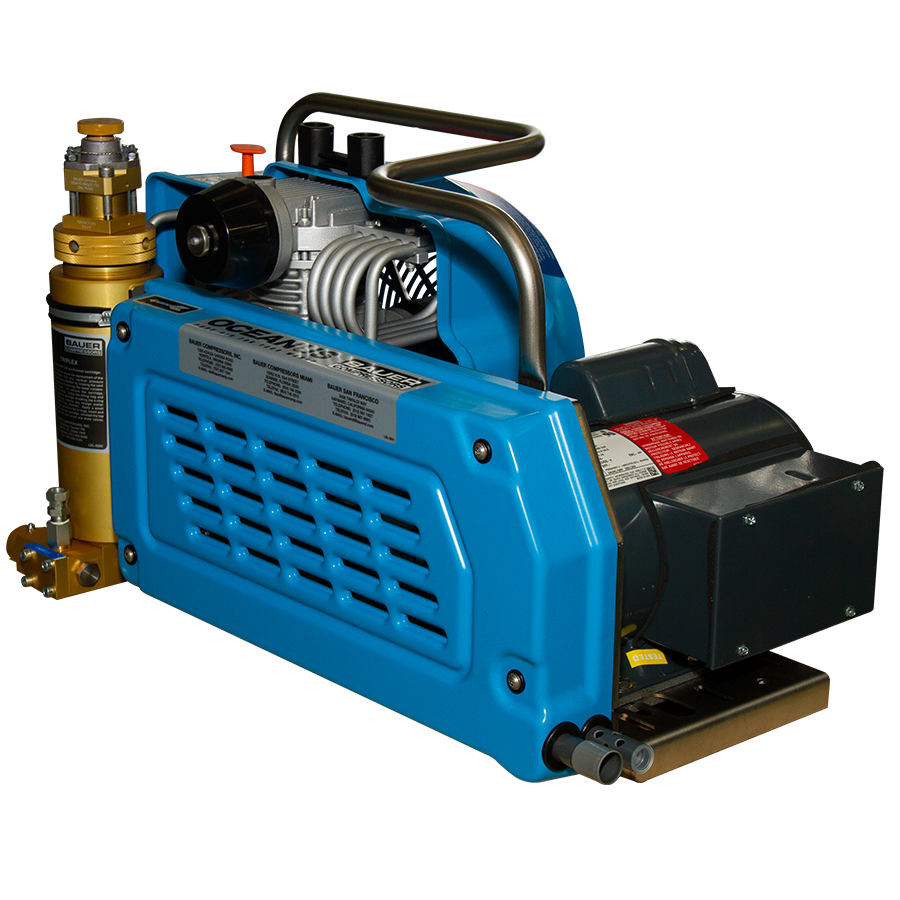 The Bauer Oceanus is classified as a portable yet high performance scuba compressor. Weighing 52 kilograms (115 pounds) with a dimension of 79 × 35 × 42 centimeters which is a typical size for portable units, this compressor has a higher capacity at 4.9cfm. Powered either by a gasoline or electric motor, this compressor can fill a tank from 0 to 3,000psi in only 17 minutes. 
While it has all the qualities typical to a Bauer compressor, this compressor stands out among the portable units. It has a 2 filling hose that can simultaneously fill 2 tanks at the same time, thereby saving time and energy.
Check price: Lucas Dive Store
Bauer Mariner (Best stationary scuba compressor for dive centers)
If you want a fast charging compressor that can fill multiple tanks at the same time, then take a look at the Bauer Mariner. This is a mid-sized compressor that weighs 115 kilograms (253 pounds) with a dimension of 130 × 64 × 70 centimeters. 
Ideal as a stationary unit, this compressor comes in 3 different versions. The Mariner 200 is rated at 7cfm and can fill a tank in 12 minutes while the Mariner 250 is rated at 8.8 cfm and can fill a tank in 9 minutes. Its biggest version, the Mariner 320, is rated at 11.3 cfm and can fill a tank in 7 minutes. All units have a 2 filling hose configuration, except for the Mariner 320 where it has a 4-filling hose configuration.      
Check price at Lucas Dive Store: Mariner 200 / Mariner 250 / Mariner 320 
Fill rate: 3.7 cfm
Motor: Electric
Dimension: 32 x 17 x 20″
Weight: 143 lbs (64.86 kgs)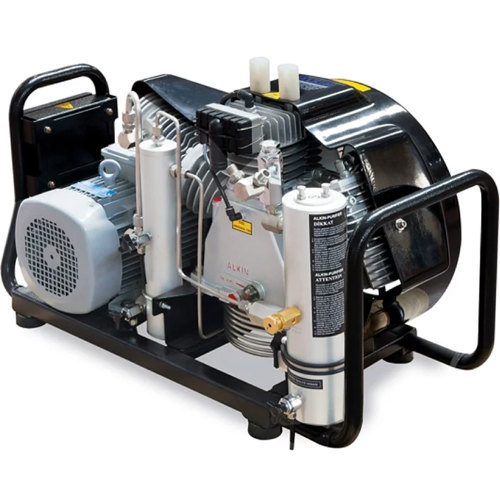 Check price at Scuba.com
Fill rate: 10.8 cfm
Motor: Electric or Petrol
Dimension: 40 x 20 x 29″
Weight: 272 lbs (125.2 kgs)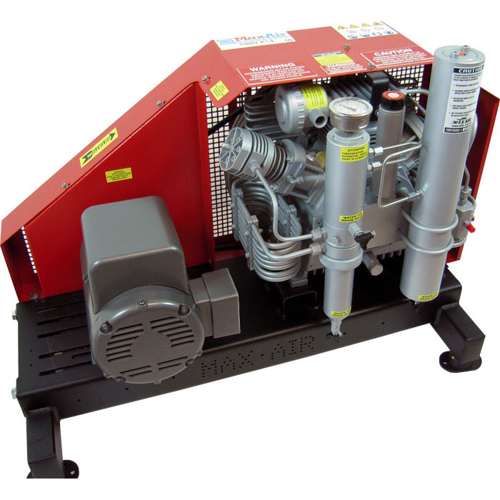 Check price at Scuba.com: Electric / Petrol
Normal air compressors vs. scuba air compressors
Scuba tanks are filled using an air compressor and not with an oxygen compressor. Oxygen is only a component of air, and pure oxygen is not used in recreational scuba diving as it is toxic at certain depths.
The air inside the scuba tank is the same with the air we breath. It is just compressed. To put things into perspective, just imagine the air inside a large room being sucked, filtered, cleaned and compressed into that small scuba tank. Scuba air compressors ensure that the air is suitable for breathing, making it different than an air compressor made for other purposes, like tire inflation.
How does a scuba compressor work?
To simplify, a scuba compressor works by sucking in air from the surroundings and processes it using a 4-stage compression before it is released out going to the tank as compressed air. When you turn on the compressor, air is sucked in via the intake pipe, or in some instances, an intake hose that is elevated to get fresh air and avoid the fumes produced by the motor.
As air is processed inside the compressor, the air is compressed stage by stage where the pressure of air increases as it passes on to the next compression stage. Before it is released out of the filling valve, it passes through a filtration system where water and oil is separated forming a condensate. This condensate is then released out of the compressor through the water and oil drain valve using a predetermined time interval. The final filtered and compressed air is then released out through a filling valve which is attached to your tank.                  
Things to consider when buying a scuba compressor
Motor: petrol or electric
All scuba compressors are powered by a motor which either runs on petrol or electricity. Choosing the type of motor will greatly aid you in preparing your scuba tanks, and of course, your mobility. For compressors that are powered by electric motors, they are great for stationary operation or in areas with electricity. For compressors that are powered by a petrol motor, they are great for mobility where you can take them anywhere, even in areas with no electricity.       
Size and capacity
There are a variety of sizes for scuba compressors, ranging from the small compact units to the large and heavy systems. While ideal for the frequent traveler or boarding it on a boat, small and compact scuba compressors may take time to fully fill a tank. On the other hand, while large compressors may take less time to fill a tank, they are usually heavy and may take up space making them ideal only for stationary operation.
When it comes to the charging capacity of scuba compressors, it is either expressed in liters per minute (lpm) or cubic feet per minute (cfm). Compact portable compressors have a low charging capacity (3 – 4 cfm) while large compressors have higher charging capacity that can go way up to 20 cfm. This simply means that the higher the charging capacity, the faster it can fill a tank.   
Single or multiple hose
A typical scuba compressor usually has a single hose to fill one tank at a time. However, there are configurations that allow your scuba compressor unit to the installed with 2 or more hoses. This is particularly true if you have a large scuba compressor which can fill multiple tanks at the same time.   
At the end of the day, having your own personal scuba compressor comes with a price since they are expensive. If you new to the sport of scuba diving, having a scuba compressor may not be recommended as having your tanks filled in a dive shop is more convenient and cheap. But if you are really into this sport, then a scuba compressor should be in your bucket list as it gives you the freedom to enjoy diving without going to the dive shop multiple times just to have your tanks filled. And lastly, scuba compressors can cater to other sports that need compressed air as it can also be used in filling up tanks for paintball and air guns.
Read more scuba articles:
Scuba Gear 101: Everything you Need to Know
Top Scuba Diving Brands from A-Z
The Best Scuba Diving Computer: Buyer's Guide
The Best Dive Watches: Buyer's Guide
The Best Scuba Tanks: Buyer's Guide
The Best Underwater Scooter: Buyer's Guide